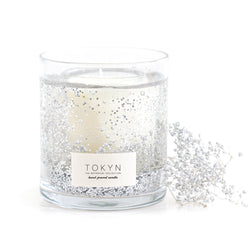 TOKYN
Botanical Collection - BIRCH BARK
Our unique botanical collection use real natural items in the outer layer of each candle. Silver sparkles & florals are hand-arranged and encased by a clear gel, creating a lasting decorative candle for your home and living space. 
The center votive includes our hand-poured exclusive Birch Bark scent - with notes of vetiver and cedarwood, it's the perfect candle to burn on a chilly winter evening. As the center soy candle burns, the outer layer is beautifully illuminated, creating an elegant and ethereal glow. The aromatic scent and visual are sure to be the perfect addition to your living space!
Center glass votive: 3 oz. glass
Height: 2.5 inches  Diameter: 2.0 inches
The center is reusable and can hold 3 oz candle refills
Each candle is carefully hand-poured in small batches.
Please note that each candle is unique and decorated by hand. Florals and sparkles may appear slightly different than pictured.